Inside In / Inside Out Tour
The Kooks
with very special guests
The Vaccines
Daisy the Great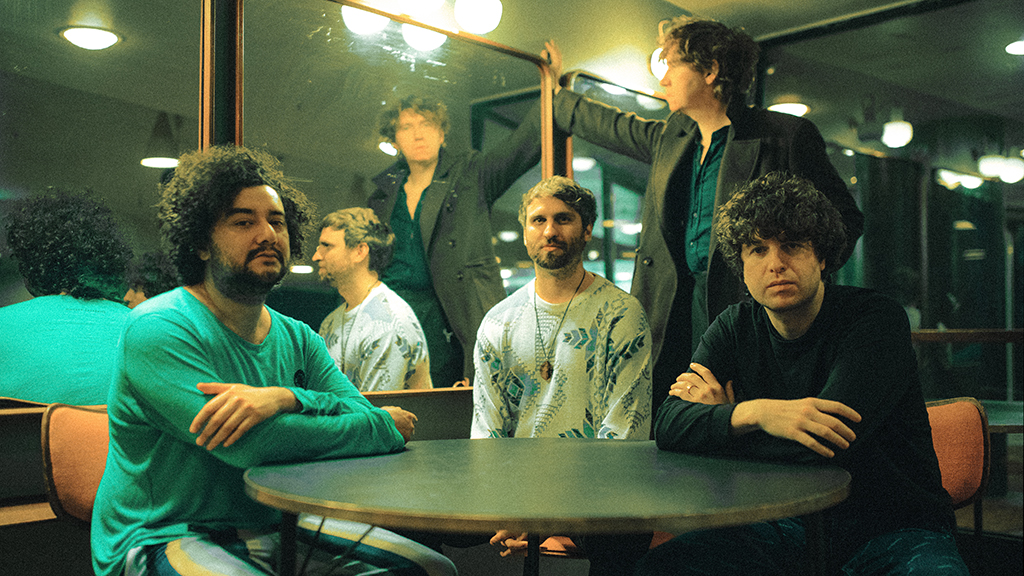 This event is all ages.
$39.50 – General Admission Floor
$39.50 – Reserved Seating
$55.00 – Reserved Seating
*plus applicable service fees
For an additional $60.00, you can opt in to upgrade your experience to include access to the exclusive Telegraph Room before, during and after the show! Please note all Telegraph Room upgrades are subject to availability.
Join us at The Den one hour before doors for food & drinks!
All doors & show times subject to change.
Add this event to your calendar:
When you look back at the sea of mid-noughties indie bands, there are few still standing and even fewer, some fifteen years later, who are still experiencing career highs. But this was the precise spot The Kooks found themselves in, four years ago.
After a worldwide arena tour, the release of their 2018 UK Top Ten album 'Let's Go Sunshine' saw the Brighton band topping the bill at festivals across Europe and at home. The streaming boom had opened up The Kooks up to a new audience of young fans who loved their distinctive brand of indie rock and were itching to see them play live.
Coming off the back of a punishing tour schedule, frontman, Luke Pritchard — vowed to take a bit of a breather. But instead, found himself right back in the studio.
"I started going to Berlin for three or four days at a time. I was really affected by Brexit and I wanted to make a bit of a statement by creating a European record," he explains. "We're a European band, we practically lived out there and have so much love for Europe, so we wanted to keep that connection."
Berlin has long been something of a creative Mecca for artists from all over the world and Pritchard found himself moving in those circles, meeting the collaborators he would work with on their behemoth of a sixth album, '10 Tracks To Echo In The Dark.' The period was one of work, inspiration and creativity as opposed to partying. "I wasn't doing any drugs," Pritchard attests. "It was more dive bars and a bottle of whiskey than Berghain."
The environment quickly started to work its magic. "A lot of songwriters have found refuge in Berlin," he says. "It's a free place, it's not so consumed by commerciality. I was looking for something a bit rawer, a little bit more minimal. Sometimes you just pick up these nuances somewhere. It's not necessarily the people, it's the place."
Armed with a new mantra — to not overthink things and just make a record that he'd want to listen to at home, the ideas came freely and easily. Pairing up with Tobias Kuhn to co-write and produce the bulk of the record, their first writing session saw them pen intention-setting lead single, 'Connection,' in just a few hours. Things were moving well with the pair laying down five tracks, but in March 2020, COVID put a stop to Pritchard's European dream, forcing him to return home to the UK to finish the writing sessions over Zoom until Tobias was able to fly out to London and record with him and the rest of the band, Hugh Harris (lead guitar/synthesiser/bass) and Alexis Nunez (drums).
Despite the dual locations, there's a distinct Berlin sensibility to '10 Tracks To Echo In The Dark.' Flirting with genres from 80s synth-pop to funk to prog rock, the album is still, at its core, an indie record and a Kooks one, at that.
It's a record that doesn't try to reinvent the wheel but takes that classic Kooks sound and adds something of a retro-futurist slant — both sonically and in mindset. It's an album about being hopeful and seeing the great in the world, despite the darkness. There are unapologetic love songs ('Without A Doubt,' 'Oasis'), tracks about partying through pain ('Connection'), terrible exes ('Cold Heart') and even a song for Pritchard's newborn son, Julian. ('Beautiful World'), born prematurely while the band were on tour in Mexico.
Getting married and becoming a father you get a sense that we're hearing from a new Pritchard — one whose demons are behind him and is optimistic about the future.
"I really hope that sense of inner peace comes across," says Pritchard of the album's resoundingly optimistic outlook. "I really want to have fun with my life at this point. But also — it's kinda a reflection of what I was feeling in real-time in a pre-and-post COVID world. I was reading a lot of sci-fi — like Philip K. Dick, Azimov and surreal stuff like Boris Vian — which is obviously really distracting from what's going on in the world, but helped me be imaginative with the songs."
It's a relief to hear a healthier perspective from a band who have had their struggles played out in the press for fifteen years. Bagging a slew of top 20 hits in their teens ('Naive,' 'She Moves In Her Own Way') with 2006 quadruple-platinum debut album 'Inside In/Inside Out,' the young band didn't always know how to handle everything that came along with superstardom.
"Mental health has been a big focus of our band for quite a while now. Because we've all struggled in our own ways. That's not to say we haven't had amazing lives, but just we struggled with fame big time, like really struggled. And we got it wrong a lot of the time.
"We did get famous quite quickly and we didn't have a lot of the stability required to not let that seriously affect you. All of us, in our own ways, have made some very poor judgements and some really good judgements. And we're here, so it means we've done very well to keep it going and to keep ourselves sane. But I have ultimate compassion for anyone who gets famous anywhere."
But as with everyone, there comes a point in life where you reach a sense of stillness, you become more comfortable in your own skin and the right path becomes clear to you. The band have been experimental over the years — most notably on 2014's Inflo-produced jazz-funk album 'Listen' — something that has been key to their longevity, but getting back to what people love about The Kooks was front of Pritchard's mind: whether that person was "a fifteen-year-old kid in South Africa or someone who was at our first concert."
The result isn't a rinse and repeat of their earlier sound, though. Instead, we get those infectious Kooks melodies and riffs, but over synths and electronic beats. There's even some saxophone in there, moving their trademark sound well into 2022.
"Indie is a word we were running from for quite a long time," he admits. "The band's done a lot of different records, but we do have quite a style. A big part of it was not running from anything. We're gonna just do what we do, but better and with a few more fresh ideas."
In the studio, he made some rules: not to overcomplicate things, throw in some old-school Kooks riffs, "the very classic, Naive-y kinda stuff, but with more minimalism" and to get back to that noughties thing of treated vocals. "It's not that I hate my voice — I just mainly dislike it. So the more you can disguise it, the better!"
Having that focus helped make a cohesive record that leans on the band's legacy while still sounding fresh. "On certain albums you make decisions based on other things and you start trying to chase your own tail. This record isn't about trying to smash everything up and reinvent. COVID hitting in the middle of recording was a good time to kind of really reflect on all our albums and be really happy with our journey."
As The Kooks, continue to reach an ever-growing audience of young fans, '10 Tracks To Echo In The Dark' feels like a mission statement. It's a celebration of getting through troubled times and a rallying cry for our future.
This is a band whose career highs are still to come. They're right to feel optimistic about what's next and that the future might be a little bit brighter.
And the key to seeing fifteen years of success as a band?
"Hard work," says Pritchard. "And a lot of luck."
Combat Sports is the sound of The Vaccines being The Vaccines. Their fourth album is the sound of one of the defining British rock and roll bands of their generation at full throttle, setting aside pop experiments and concentrating on what caused the rabid excitement at their arrival in 2010. Combat Sports is a record of guitars, of brevity, of speed, of breathless excitement.
"We rediscovered who we were and what kind of band we wanted to be," says singer, songwriter and rhythm guitarist Justin Young. "We wanted to make a record to solidify that in our minds, and the minds of other people. We wanted to make the best record we've ever made."
Combat Sports was born of troubled times. The band ended the campaign for their third album, English Graffiti, in a mess. Members of the band had lifestyle issues and health issues – being in the band wasn't the fun it had once been. They were also questioning themselves and their music: although it had been a No 2 hit in the UK and won some of the best reviews of their career, The Vaccines knew what the audience wanted – and what they loved playing – was rock and roll.
"We lost sight of who we were and why we were there," Young says. "When you're as insecure and self-aware as me, there's a constant process of second-guessing everything you do. I've brought The Vaccines into my heart again now. Being in a band is about compromise and collaboration and I think it's coming to terms with what we are as a collective and falling back in love with that and making the best record we can for us as a band, rather than as individuals."
Then came the departure of drummer Pete Robertson, causing the remaining trio to realise something about the group: "We decided we needed to make it fun again." Lead guitarist Freddie Cowan and bassist Árni Árnason provided the manifesto: "The band were saying: 'We love it when you bring in rock'n'roll songs – they're so much more fun to play.'"
That was crucial for Young, because he realised the Vaccines needed to be a guitar band again. Specifically, they needed to be a band where lead and rhythm guitar worked together, as on their debut, What Did You Expect From The Vaccines? "With great bands, you need to be able to hear the guitar and recognise them," he says. "Lots of people would have been learning Freddie's licks from the first two albums – there are 11 guitar solos on the new album – we were encouraging him to play again."
A key moment in Young realising the power of rock and roll came on a night out in a Los Angeles bar. It's something he remembers vividly, seeing how a great guitar band could set a room alight. "The DJ played Everybody's Happy Nowadays, and all the girls in there were dancing so intensely to it. I thought: 'Fuck! I remember why I love the Buzzcocks – for these really sad, forlorn, dumb, catchy songs.' And I realised rock and roll was sexy again. I'd forgotten it could be sexy."
The group, aided by keyboard player Tim Lanham and drummer Yoann Intonti, initially as session players, set about hammering the new songs into shape through late 2016, rehearsing in south London, during which time they realised they didn't want to be a three-piece. So Lanham and Intonti were made full members of the band, which reinvigorated the group. "You remember how lucky you've been – you start getting excited for the new guys experiencing things for the first time, and it breathes new life into the group. The shows in summer 2016 [at the Reading and Leeds festivals] were fucking amazing, and we bottled that feeling." By May 2017 a total of around 80 songs had been whittled down to 11 and recorded in Sheffield with producer Ross Orton to become Combat Sports.
Orton's work with bands such as Arctic Monkeys, M.I.A and the Fall made him the ideal candidate for what The Vaccines wanted to deliver. "When I spoke to him: he said, 'Why don't you just come up to Sheffield, plug your guitars in, and I promise you I'll make a good fucking record,'" Young says. "That was in January, and I was still thinking I wanted to work with a harem of pop producers. But I realised Ross Orton would make a great modern record and the right record.
The location, too – away from home, but not somewhere where they might be distracted by turning into tourists – helped The Vaccines, allowing them to focus on making a record to define their career. "There were no friends' birthdays we had to leave early for, or weekends away. It became all consuming."
The result is 11 songs that go back to what the Vaccines were all about in the first place: brash, bold, rock and roll songs that mix melancholy and euphoria. "I wanted the songs to be really honest," Young says. "I wanted Freddie and my energy to be at the forefront of all them, and I wanted that visceral urgency that got attributed to us in the early days to be present in all of them. Without being regressive I wanted to build on the musicality of English Graffiti but for the songs to be fun, upbeat, exciting and loud." From pure Vaccines rock and roll (Put It on a T-Shirt, I Can't Quit, Surfing In The Sky) through to powerpop (Out in the Street, which was inspired by Big Star, and Take It Easy, which came from listening to Dwight Tilley and Tom Petty) Combat Sports a record that defiantly reasserts the Vaccines' case to be one of the great English rock bands of their time.
That defiance is reflected in the album's title, which was thought of after Young and Cowan came to blows on the last day of recording ("We've never been shy of telling home truths to each other," he says. "We're like brothers. And brothers fight."), but wasn't referring directly to that. "I don't see the title as a negative," Young says. "On the contrary, to me it embodies survival, strength, commitment, glory, winning. We're not just saying being in a band and making a record feels like a combat sport – we know how lucky we are. If you listen to the lyrics, we're saying life is a combat sport. Love is a combat sport. Friendship is a combat sport. Mental health is a combat sport. But there is so much hope and positivity in the melody, and in our love affair with music, too."
As Daisy the Great, Kelley Nicole Dugan and Mina Walker make folk-inflected indie rock that spans a multitude of moods, capable of being clever, devastating, or both simultaneously, spanning harmony-laden pop to powerhouse balladry. The pair first met as acting majors at NYU's Tisch School of the Arts where they began co-writing a musical about a fictional band before realizing they could make it happen in real life and set out as Daisy the Great.
2017 saw Daisy the Great make an auspicious debut with "The Record Player Song," which quickly proved an immediate smash now boasting over 250M worldwide streams and multiple viral moments on TikTok. A full-length debut LP, I'm Not Getting Any Taller, arrived in 2019, followed in 2020 by the quarantine-born Soft Songs EP. In 2021, Daisy the Great teamed with acclaimed indie-pop trio AJR for "Record Player," a brand new song inspired by their original 2017 hit.
Having now grown into a full six-piece band currently featuring Matt Lau on guitar, Bernardo Ochoa on bass, Matti Dunietz on drums, and Brie Archer on additional vocals, Daisy the Great first heralded ALL YOU NEED IS TIME with the dazzling "Glitter. Hailed by Atwood Magazine as "a dreamy, inspiring alternative anthem to let our light shine," the track is joined by an official music video – directed and edited by Dugan and Walker. The band also visited 90.9 The Bridge in KC for a session that NPR included in their 2022 "Sessions of The Year" list and appeared on The Late Show With Stephen Colbert's "Late Show Me Music" series, available on the show's Instagram, YouTube, and Facebook channels. 2023 saw the band releasing a new version of "Tell Me Have You Been Dancing" featuring vocals from indie pop artist Claud and a reimagined emo lo-fi version of their song "Glitter" titled "Glitter 2". The band released two new songs "Looking U Up" and "Tough Kid" just ahead of their European headline tour, with more music to follow.
"Our music is generally pretty introspective, and we are often interested in the complexities or ironies we see within ourselves," Dugan says. "That's something we love about writing—you can say something small and delicate and true that maybe feels scary to say, but once you put it out there, it can turn into a comfort for anyone that might also be feeling that way."