Rock And Roll You Won't Save Me Tour
GROUPLOVE
with special guest
Bully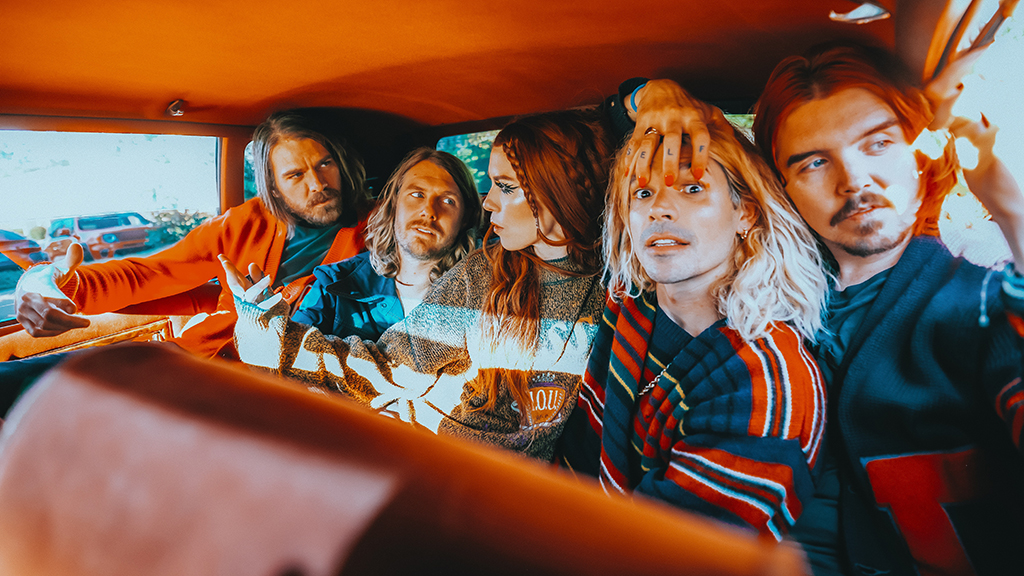 This event is all ages.
$39.50 – General Admission Floor
$39.50 – Reserved Seating
$55.00 – Reserved Seating
*plus applicable service fees
For an additional $60.00, you can opt in to upgrade your experience to include access to the exclusive Telegraph Room before, during and after the show! Please note all Telegraph Room upgrades are subject to availability.
Join us at The Den one hour before doors for food & drinks!
All doors & show times subject to change.
Add this event to your calendar:
On their new album I Want It All Right Now, GROUPLOVE offer up a body of work built on a raw but incandescent sound that vocalist/keyboardist Hannah Hooper refers to as "resistance pop." As Hooper reveals, the Atlanta-based band's sixth full-length emerged from a period of intense transformation for herself and her husband/bandmate, vocalist/guitarist Christian Zucconi. "For me this whole journey started with wanting or asking for certain things from the world around me, then slowly turning inward and realizing I needed to pay more attention to what was going on internally," says Hooper. Over the course of 11 shapeshifting songs, GROUPLOVE's debut release for Glassnote Records documents that progression from external searching to radical self-discovery, infusing each track with the wildly unbridled spirit the band has always embodied.
Produced by John Congleton (a Grammy Award-winner known for his work with St. Vincent, Regina Spektor, and Sharon Van Etten), I Want It All Right Now fully harnesses the ecstatic energy GROUPLOVE have brought to the stage on multiple international headline tours and at leading festivals like Coachella, Bonnaroo, and Lollapalooza. In a major leap forward for the band—whose lineup also includes bassist Daniel Gleason, guitarist Andrew Wessen, and drummer Ben Homola—the album explores the deepest tensions of the human psyche with equal parts tenderness, curiosity, and exacting self-revelation. A bold evolution of the defiantly sincere songwriting they first delivered on their 2011 debut Never Trust a Happy Song, I Want It All Right Now ultimately leaves the listener newly awakened to the wisdom and power of their own intuition.
Lucky For You is Bully's most close-to-the-bone album yet. It's an album that's searing and unmistakably marked by its creator's experiences, while still retaining the massive sound that Alicia Bognanno has become known for over the last decade. Her fourth album draws from personal pain and the universal struggle that is existing, learning, and moving on—and it's all soundtracked by Bognanno's rock-solid melodic sensibilities and a widescreen sound that's impossible to pin down when it comes to the textures explored. These ten songs are simply the most irresistible Bognanno's put to tape yet, making Lucky For You her greatest triumph to date in a career already packed with them.
Work on Lucky For You began last year, when Bognanno brought some in-progress demos to producer J.T. Daly in his Nashville studio to see if they could strike creative kismet. "Authenticity is always on my mind, without even knowing it," she explains while discussing their recording process together. "If I'm doing something that doesn't feel natural or right, I'm quick to shut it down. So it was great with J.T., because I could tell he was a genuine fan who wanted to emphasize what's actually good about my writing instead of changing it. I could tell how much he cared about the project and it meant alot to me." The album came together over the course of seven months, the longest gestation process for a Bully record to date: "I was freaking out about it at first, because taking my time was so new for me. But a few months in, I realized how crucial that time ended up being. I got songs out of it that I wouldn't have had otherwise."
"With every record, I feel more and more secure in terms of doing what I want," Bognanno continues. "For this one, I wanted to be as creative as possible with these songs." She got her wish: A kaleidoscopic rock record spanning punk's grit, the crunchy bliss of shoegaze, explosive Britpop, and the type of classic anthems Bully has been known for, Lucky For You's thematic focus also zooms in on grief and loss. The record is largely inspired by Bognanno's dog Mezzi passing away, at a time when her life already felt as if in metamorphosis.
"Mezzi was my best friend," she explains. "She made me feel safe and empowered, she showed me that I was worth loving and never judged me or viewed me as a let down. I always felt accepted, understood and so much less alone. Mezzi was living, breathing proof that I was worthy of being loved." And the oceanic first single "Days Move Slow" was written shortly after Mezzi's passing, reflecting the persistence of Bognanno's incisive wit even while facing adversity. "There was nothing else I could do except sit down and write it, and it felt so good."
"Hard to Love" stomps and lurches with awesome abandon, resembling one of the most sonically left-field tunes Bognanno's put to tape as Bully; and then there's the passionate opening track "All I Do," which kicks in the door Bully-style with huge riffs atop her lyrical reflections on three years of sobriety. "I've been living in this house for seven years," she says while discussing her current Nashville abode. "Once I stopped drinking, I felt like I was still haunted by mistakes and things that had happened when I was drinking, and it's still taking me a long time to forget about that while existing in this house. How do I shed the skin from a path I've moved on from?"
In that vein, Lucky For You is a document of perseverance in the face of the big and the small stuff. "I'm so overly emotional and sensitive, it's a blessing and a curse" she says with a laugh, but there's no downside to her expressions of vulnerability on this record; it's the latest bit of evidence that nothing can hold Bognanno back.